Secure Printing
Protection against forgery is indispensable for lots of card applications. Here you get the best practices to defend your cards or paper tickets from copying and misusage.
To make it as secure as possible, meanwhile all layers of the card are used. In the body of the card, on or under the laminate you can apply details for which forgery is almost impossible. We recommend a combination of visible and invisible security elements.
Visible security elements:
Hotstamp
2D-/3D-hologram
Spotlack on laminate
Microscript
Guilloche-
Custom-made hologram
Several printing levels
Changeover colour
Serial numbers
Glitter powder
Invisible security elements:
Hidden text in the inside of the card
Hidden text under the magnetic stripe
Grey-in-grey-printing (hardly visible)
UV-printing (only visible under UV-light)
---
Card sample 1: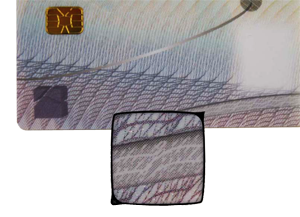 The focused area shows a printed guilloche-structure, an extremely filigree muster. The lighter stripe you get by a gap in the upper card layer: The translucent brighter structure is printed on one of the inside-layers of the card. Furthermore, glitter powder is addes to the printing colour.



Card sample 2: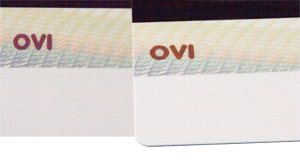 This card sample has got a guilloche-stripe which is also printed with a special colour: optical variable ink, short OVI. This changeover colour looks different, depending on the perspective of view. The colour of the letters "OVI" can look red, pink or redbrown, depending on the light.


Card sample 3:

The focused part of the picture shows a lettering, so tiny, that it is only visible and readable with a loupe. The naked eye only sees a circle-form. Microlettering can be applicated on larger parts of the card like a muster.
---

Further security features:

Holograms:
Two-dimensional graphic templates are separated into foreground, image plane and background and changed into a three-dimensional picture. To imitate those holograms, the whole embossed structure would have to be analized with microscopic resolution.
Holograms can be added with delamination and serial numbers. Delamination prevents duplication of cards with high value and makes it impossible to change labels that are applicated on cards with low value. Serial numbers
Serial numbers prevent from misusage; especially intern misusage can be detected easily by checking the numbers.
With laser engraving, you give embossed holograms a non-manipulable, individual identifier. For this technique, a thin aluminium-layer of the foil is evaporated.
UV-colour:
With special colour ribbons images and texts can be printed on the card and they are only visible under UV-light.
With UV-colour, you can add hidden security features to an apparently simple appearance of the card.
UV-colour ribbons are suited perfectly for security printing with your own card printer because they are very simple in use.
---
Security printing on paper:
Thanks to close collaboration with worldwide leading material producers, we can offer you innovative, easy testable security features for paper tickets.

Paper sample 1: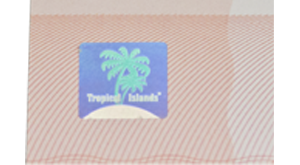 This paper ticket has got a hologram and a fine guilloche-structure. An alternative is a hotstamp lable.



Paper sample 2: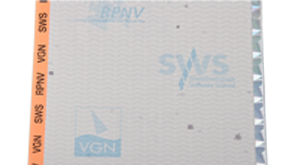 The darker marks on the paper are planchettes: tiny coloured slices which are integrated into the paper and which shine through when you hold the paper to the light. For the use as transport tickets, there are special planchettes that react with bleeding in signal colour on every sabotage.
The edges of the pictured ticket are printed with fluorescent daylight luminent paint and hologram stripes: The bright orange of the left edge can't be copied with any conventional colour printer. There are special test lamps for the orange.


Further security features for paper tickets:
Coloured fibres: Those fine fibres are mixed into the paper and are applied for bank notes and document security.
Dual Layer Thermopaper means a premium security paper for public transport. It is resistant against hairspray, brake fluid and further aggresive substains and avoids that printing can be removed with chemicals and be re-printed again.
Chemical reactive paper vhas got a layer which shows a colour-reacting to a test pin.
Colour Center Thermopapers do have a coloured medial layer that gets visible by ripping the ticket. That is perfect if control has to go fast as at the entrance of concerts for example.
Invisible fluorescent colours can be used for a simple visual checking of security documents by using a UV-lamp. You can raise security level by combining different colours within a layout.
Metameric colours: You print an object, e.g. a logo, with two colours. Prooving it with a special filter, only a part is visible - an effect, impossible to copy.
Coinreactive Ink: if you rub over the paper with a coin, the nickel causes an abrasion which colours the paper.
Thermochromic colour changes when it is heated, e.g. by rubbing your fingers; it is also possible that is disappears completely and slowly gets visible again.
You need advice in security printing od cards or paper?
Feel free to contact us!
All About Cards – competence in cards!
---
---