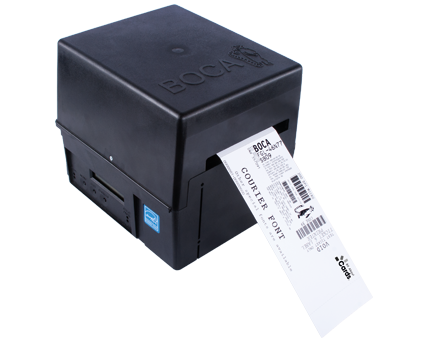 BOCA L 46 – the professional device for ticket printing
The ticket printer BOCA L 46 prints high quality tickets through a thermo direct process. Although the BOCA L 46 had been designed for high ticket volumes and very high printing speed, it prints silently and works energy-saving. The ticket printer BOCA L 46 does not need costly printer supplies, but only thermo paper instead.
BOCA L 46 – the standard model with different options
The standard desktop model BOCA L 46 has a manual card demolition function so that e.g. printed entrance cards can be detached at the perforation with a small movement of the hand. Moreover, the BOCA L 46 is equipped with a display and a control panel.
Additional options for the standard model BOCA L 46 are:
Cutter with a finished part catcher: The cutter detaches the tickets automatically, is durable and needs a low number of maintenance
Expansion of the printing width from 2" to 4" (50 – 101 mm). The BOCA L 46 is continuously variable adjustable, thus different ticket formats can be used
Vertical Model: the printer BOCA L 46 is also available in a desk fitting version with top plate/inner bumper
L-S Model with especially big casing through which the tickets can be stored in the inside of the printer
Fields of application of the BOCA L 46
The BOCA ticket printers are designed especially for printing high class tickets and are applied in varied fields like sport events, music events and visitor administration. Also cinemas, sport stadiums, fun parks, museums, theaters, ski areas, baths and thermal baths, congress centres and public transports use those fast and reliable ticket printers. Through appropriate security features at the tickets, gift cards or voucher applications, that require cheap, high volume printing, can be converted with the BOCA L 46 ticket printers.
Printer supplies for the BOCA L 46
We offer different standard ticket formats for the BOCA L 46. They can consist of white thermo paper or thermo laminated film. Those will be printed single or dual sided during the offset print and can be personalized with the BOCA L 46 afterwards.