CineStar
High-quality gift cards on card carriers and in film cans with fulfillment and logistics.
Cinema equals adventure, plunging into another world, relaxing from everyday life - ideal to make it a present: for that purpose there are beautiful voucher and gift cards including matching packaging in 50 movie theatres of the CineStar-group all over Germany. All About cards took care of the production and the fulfillment of the project.
The valuably printed cards are available in various layouts for adults and children, more motives will be added depending on the season or occasion. For example, there will be cards for Valentine's or Mother's Day, Easter or Christmas. The series of gift cards with different motives is obtainable with different amounts of money and they are charged when paying at the checkout. Additionaly there are gift cards for extensive fun in the cinema: these cards, for instance, include two tickets, two drinks and snacks.
"Cinema for Two" in a Fancy Film Can
The cards are given out in two ways: The gift cards are applied to card carriers with a suspension for the POS. The "Cinema for Two"-cards are handed over in a fancy film can equipped with an inlay made of premium artificial red velvet with a card holder. Cards and packaging can be bought at the checkout of the cinemas or in the CineStar-Online-Shop.
The cards make you want to give presents - not only because of their high-quality printing. All cards are produced in offset printing, have clear and pin sharp motives. The cards become even more valuable, using hotstamp in shimmering red or spotlack with glitter particles.
---
Recently: "Minions" as special shaped cards
CineStar uses not only seasonal events as themes for new products: For the film release of "Minions", All About Cards produced special shaped plastic cards with matching paper carriers. The little yellow helpers are placed perfect at the POS and available as gift cards in three versions with three amounts.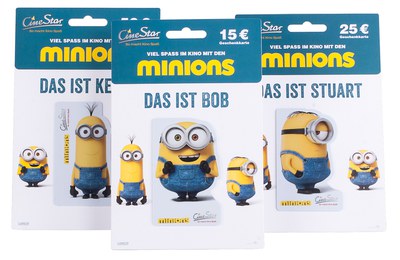 ---
From Production to the Shops
All About Cards took care of service from A to Z for the CineStar-group: production of cards and packaging, applying to the card carriers, placing in cans as well as stocking, logistics and shipping to the 50 stores. Additionally to the gift cards, there is an annual edition of honorary cards for special customers.
With its card program CineStar provides a showcase project when it comes to customer loyalty: The gift cards are suitable for various target groups, provide a unique gift and are easy to use. That way, customer loyalty for regular guests and winning of new ones work with a holistic concept.
---
---