Best Practice SIX and I AM voucher card project
Timeless classics - this is the motto for the voucher cards for SIX and I AM (beeline GmbH), which All About Cards was allowed to realize. Their vision since 1990: trendy fashion accessories at attractive prices.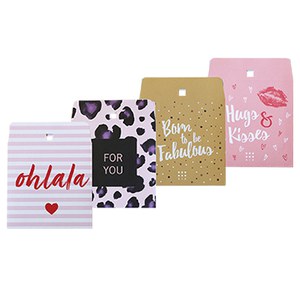 Individual culture and unique cooperation
All About Cards and beeline have been working together successfully in the voucher card sector since 2015. For this purpose, the design of the card carrier and envelope as gift packaging was developed in cooperation and adapted to beeline's individual wishes. The Europe-wide success of the brands also means that the voucher cards are produced in many different language versions. At All About Cards, the cards produced are suitably packed on carriers according to specifications, foil-wrapped, labelled and bundled according to versions. This ensures subsequent central processing in beeline's high-bay warehouse.
Voucher cards and card carriers for SIX and I AM
The two beeline brands - SIX and I AM - stand for a dazzling world of fashion accessories. This is exactly what the voucher cards are supposed to reflect. The white, matt laminated cards with a silver hot stamp of the brand logo convince with their simple design. The matching card carrier is mint in the fashionable colour. The voucher cards and card envelopes for I AM produced by All About Cards are also enchanting in their purist rosé.
---
---