NiceLabel – The digital transformation of labeling
A central software solution is recommended for the creation and management of labels, which often change in content and design or are constantly being expanded. In the past, collaboration with the IT department was essential here. Thanks to intuitive label management solutions, each of your employees can create, manage and print uniform and attractive labels with text and barcodes. This not only saves time, but also enables centralized processes across multiple locations.
The NiceLabel label printing software is compatible with Windows operating systems, including Windows 10 and works with printers from Zebra or Honeywell.
From label templates to printing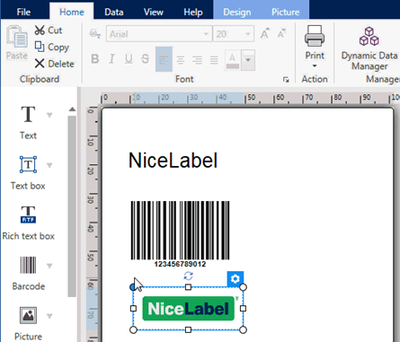 The label design software is structured similarly to conventional word processing programs such as Microsoft Word and can therefore be operated intuitively thanks to the familiar surface. With text, boxes, barcodes and images, you can quickly and easily design delivery notes, packing slips, invoices or product labels. Technical barcode knowledge or designer know-how are not necessary.
Thanks to a centralized storage system, no label design is ever lost and is always easy to find and view for employees. This enables fast communication channels and approval processes.
The integration of product data saves even more time, as content no longer has to be entered manually. The data is taken from your ERP system, your cloud or on-site business applications such as MS Dynamics, Workday, SAP, Netsuite, etc. and significantly reduces the error rate.
The label data can easily be made available to colleagues, business partners or logistics providers or sent for printing in just a few steps. Everything from one platform to multiple locations.
NiceLabel offers three different solutions for simplified label management, from simple cloud applications to advanced versions with additional functions:
Label Cloud
NiceLabel's Label Cloud solution for label design is one of the easiest labeling solutions for companies of all sizes and industries. Label Cloud is ready for use within a few minutes without major IT effort and promises secure storage and management of your labels in the cloud.
The label design is very easy on the computer, regardless of the location, including the integration of the label with your product data. This enables easy print scaling across the company.
Label Cloud is available in the editions Essentials, Business and Compliance and works through a monthly subscription. A trial version is possible.
Label management system
With the NiceLabel label management system you can standardize your entire label printing process on a single platform. Label design, manual printing, integrated printing and document management are all handled by a single software solution. Thanks to its extensive range of functions, the label management system is particularly suitable for medium-sized and large companies that create and manage labels across multiple locations, departments and employee levels.
In addition to the label designer, it also includes a document management system, an application builder, a web printing system, an integrated printing system, a change and transport system and a non-production environment. In addition, the users are scalable from five to several thousand in order to integrate all locations, employees and suppliers that require access. You are also welcome to try out the application with a test version first.
Design and desktop solutions
For small companies with only one location and a few employees, the smaller design and desktop solution is recommended. It contains the NiceLabel label designer as well as the automation and integration of label printing into your existing business applications. This reduces the risk of printing errors and incorrect labeling and, in the long term, lowers costs through greater efficiency. For interested companies who are still undecided, there is also the option of a test version.
The goal of label management software is to save time and money for your company while increasing efficiency and reducing errors in labeling. Our consultants will be happy to help you find the best possible solution for your company. At the same time, our team can also advise you on the right hardware and offer support for integration into your existing business and data systems.