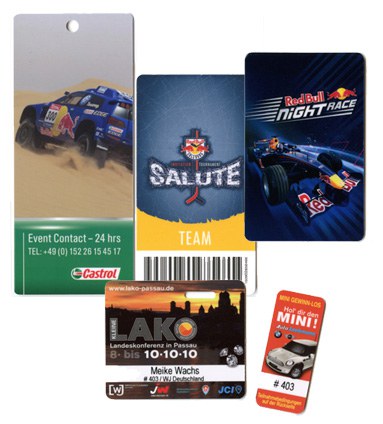 Event cards can be personalized, added with security features and supplies. In every case you make your event unforgettable for the guests by handing them out robust plastic cards.
Barcode or magnetic stripe, contactless RFID-technology or a chip offer you control about who is visiting your event. Especially the contactless chip cards allow a smooth and fast access. So that your event will be a special experience, you should ensure a controlled entrance with identification and personalization with name and picture, so every guest will feel special.
With a little hole, event cards get even more practical: With a lanyard or a clip visitors can carry them visibly and have an easy access to the different zones. You want to stand out from standard with your cards? We can recommend special shaped cards like oversized cards or key tags.
For big events where lots of people have to get entrance in short time, there are useful wristbands.
You want to personalize your access media by yourself? The technology of Zebra card printers offers great printing quality and a fast an easy printing.