ID management made easy
Employee ID cards in the form of plastic cards offer companies many advantages. Efficient facility and employee management is possible with the badges, from access rights to time recording.
With the right tools, you don't need agencies or third-party providers for design and printing. With in-house printers and intuitive card software, you can easily take over ID management yourself.
ID.office360 from MADA Marx is a professional ID card creation software with intuitive operation, quick installation and appropriate configuration. Simply create new designs or manage existing cards by connecting them to your data systems. And with a suitable printer, you can print and prepare the cards on site within a very short time. The software runs on Windows operating systems from Windows 7 upwards.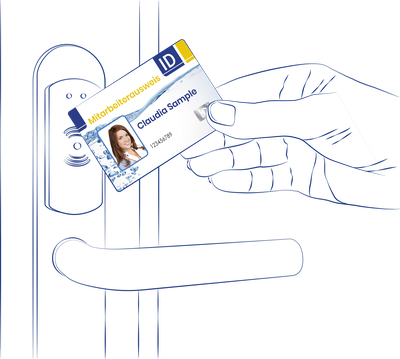 BENEFITS:
High flexibility
Database support
Easy to use
Integrated coding
Made in Germany
Features and functions for smooth use
In order to be optimally integrated into any company, ID.office360 is equipped with a number of functions that facilitate its daily use:
Simple user administration: In the SBS version of the ID management software you have the option of assigning user rights and badge types, and enabling or disabling certain input fields.
Individual login: Every employee who uses the software can log in using their own USER ID with a password. That makes processes comprehensible.
Integrated layout designer: Your employees don't have to be trained designers to create beautiful and professional badges or cards. The software offers an extensive selection of objects, including text, images, graphics, 1D and 2D codes.
Quick photo capture: Most ID cards have a photo. This can be taken directly via a connected camera without installing drivers. Alternatively, images can be uploaded from existing files.
RFID inline coding function: With ID.office360 you can code RFID chips during the printing process. The codings are encrypted in the system and layouts can be assigned individually. Magnetic stripe coding are optional.
Extensive modules: Diverse modules guarantee flexibility. With ID.office360 this includes print control modules for the print settings, automatic import for loading data sets from internal or external systems, the export of photos to picture folders or the reading of external files.
The right version for your business
ID.Office360 is available in two software versions: Standard and SBS.
Standard: The single-user solution with individual printer connection, flexible database management and possible integrated RFID coding is particularly suitable for small to medium-sized companies with a smaller card volume.
SBS: The multi-user system for large companies naturally offers all the advantages of the standard version of the ID management software. In addition, users have the option of user administration, network capability, extended interface modules and additional security measures.
The right hardware
ID.office360 supports a large number of printers from well-known manufacturers such as Magicard, Evolis or Matica. Our team will be happy to help you choose a suitable printer for the ID management software:
You may also be interested in ID card solutions for printing forgery-proof ID cards. We have a separate area for this with further information. Alternatively, you can contact our team. We would be happy to advise you on the use of ID.Office360 in your company as well as on suitable hardware or other ID card solutions.
---