Logistics, fulfillment and efulfillment
In addition to card production, All About Cards offers efficient eFulfillment, practical solutions such as packing, packaging and shipping your cards. We connect your card project via API or interface and process just in time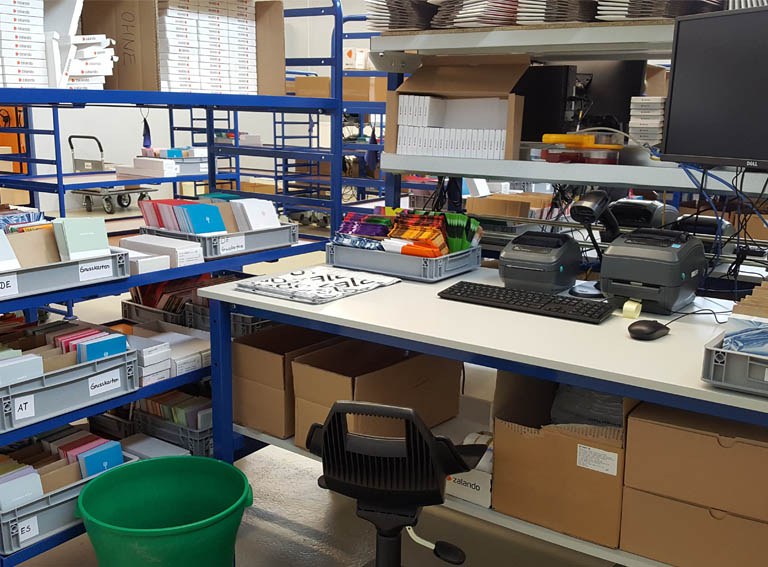 Too many card projects also include a sophisticated logistics or an extensive fulfillment. Mailings in particular require many well-planned, small steps. So we agree with you the cover letter including printing, the method of applying the plastic cards, any supplements, the shipping envelope or packaging, the type of addressing and postage. Finally, you decide on the shipping route, which we realize with our reliable logistics partners nationally and internationally as quickly and cost-effectively as possible for you. We are always looking for the most effective, shortest and least expensive way for you and value the highest reliability. Should it come to complaints, find your personal contact for you a solution. We also gladly handle call-off mailings for you. For example, we produce the card requirements for "blank" customer cards for one year and send you the personalized cards of new recipients on your call - you decide when, how often and how many cards you will call up each time.
Packaging and something more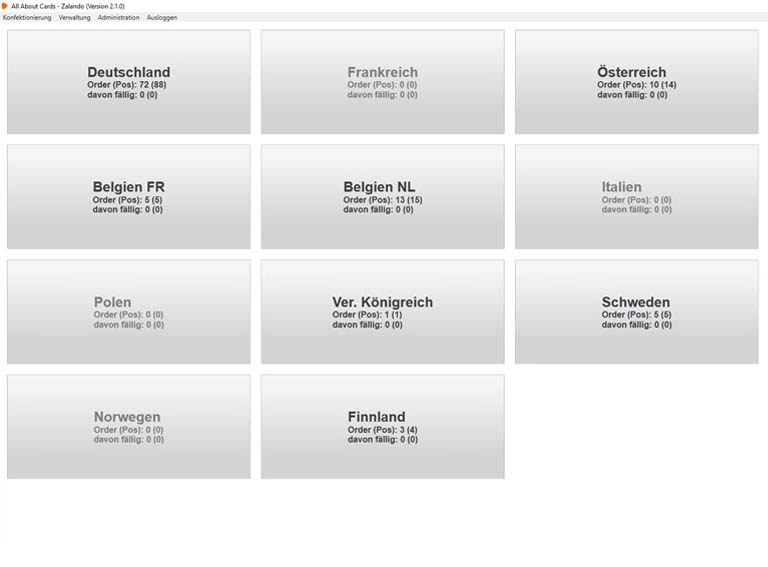 Your recipients deserve a small highlight? Then choose from our attractive card packaging and use the additional advertising space for text, image, action code, booklet or product sample. Also the individual development of a packaging exactly according to your ideas is possible. For printing and finishing of the packaging, almost all options are available, as well as card printing. We produce cards and packaging for you and also handle the packaging.
Can it be something more?
If we regularly take over mailing or packaging services for you, we also offer you a workflow-based fulfillment of complex processing processes. You want to use your existing backend while working with us? No problem. You continue to work on your existing platforms and backend systems. We receive the data automatically via interface and play the processing status back to you. We realize API connections to existing backend, online or ERP systems. In addition, we take care of the shipping tracking or the insurance through system integration of different logistics service providers (UPS, DHL, Kühne & Nagel, etc.). This keeps you and your customers up to date on where the order is.
Logistics and fulfillment services at a glance:
Workflow-based fulfillment of complex processing and picking processes
API connection to existing backend, online or ERP systems
Packaging of plastic cards and packaging
Shipping to several branches and branches
Shipping directly to the customer
Management of orders
On-demand personalization and on-demand orders
picking
warehousing
Logistics services
System-technical integration of different logistics service providers with regard to tracking tracking
Clearing services
efulfilment
The general purchasing behavior has changed fundamentally in recent years and the demands of customers in the network are steadily growing with the Internet trade. In the past, they were satisfied with delivery times of a few days, but in some cases, after some 48 hours, they are now impatient. To meet all these requirements of the customers on their own cost you as an online shop operator a lot of strength, resources, time and ultimately money.
In fact, eFulfillment is the partial or complete outsourcing, ie the outsourcing of processes in e-commerce, in order to bring their goods to the online customer so quickly, reliably and cost-effectively. Above all in the area of ​​production and personalization processes of gift vouchers, gift cards or customer cards, we provide relief with our eFulfillment. We adapt our services as an eFulfillment service provider to the needs and requirements of your online shop and thus offer, for example, Web to print solutions for personalization, packaging and shipping of gift cards with very short delivery times. The tasks are complex processes that we as professionals like to take over from you as a shop owner.
Outsourcing of the efulfilment
E-fulfillment is worthwhile for online retailers and offers them the advantage that they can rely on a service provider with experience, know-how and infrastructure and can concentrate on their own core business. With eFulfilment, you have additional, liberated human and operational resources that you can use efficiently and thereby save time and money. In addition, you offer your customer the best possible shopping experience when, for example, goes to high-quality, refined coupons or gift cards. This creates customer loyalty and loyalty and ensures medium to long-term sales.

Find further information about our fulfillment service in the following video: