Best Practice Hagemeyer Customer card concept
Points to shopping happiness with the B2C "Family & Friends" customer card mailing consisting of personalized cover letter & customer cards, program description, integrated vouchers and envelope.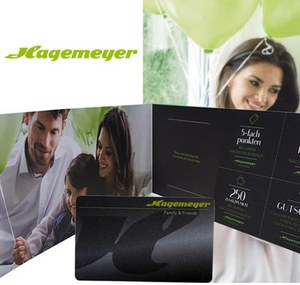 Family & friends customer card mailing
Clothes make people. This is a well-known German proverb. Clothes play a big role in our society. The Hermann Hagemeyer fashion houses offer fashion articles of various brands, luxury fashion, sportswear, baby and children's clothing - the three fashion houses in Minden, Stadthagen and Oeynhausen not only offer fashion for the whole family, but also an extensive shopping experience and gastronomic delicacies. In order to increase and deepen this experience among customers and families, the company relies on the "Family & Friends" customer card concept. The project is realized in cooperation with All About Cards.

---
---