We are printing high-quality business cards of which you can be proud of. We attach great importance to a professional, perfect print image. We offer business cards in standard measures of plastic cards (54 x 86 mm, thickness 0,76 mm), but we there are much more other possibilities:
Thin plastic cards: Thin plastic cards are an alternative if you don't want to have such thick cards, but something more sturdy than paper cards. They have got a diameter of 0,2 up to 0,5 mm, are tearproof and can't get buckling or folded edges. Thin plastic cards are available glossy or matt laminated. They can have signature panels, partly or the whole surface on one side, so that you or the recipient can make notes on the cards.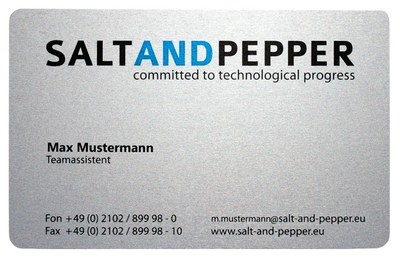 Business cards made of metal: Metal cards make great business cards and are also available in different thicknesses. They can be printed multi-coloured and can be punched or refined.
Transparent business cards: With transparent PVC-material you can get nice effects that are also suitable for business cards. They can be printed multi-coloured and refined. Transparent cards can also be used as advertising medium for other applications and can be produced in special sizes, shapes and with magnetic stripe.