TAG YOUR PRICE™: Easily design and print food cards
Tag Your Price™ ist eine intuitive Kartendruck-Software zum Erstellung und Drucken von Preisschildkarten sowie der Verwaltung aller Lebensmittelprodukte. Mit wenigen Mausklicks können Lebensmittelkarten einfach professionell erstellt, ausgedruckt und alle Produktwaren einheitlich beschriftet werden.
Price label software for everyone
From rural cheese counters to large supermarkets – retailers are required to label their products, especially when they are sold without a packaging. In this area particularly, the goods on offer and the product labeling often change daily or even several times a day. The Tag Your Price™ software guarantees to keep this labeling process up-to-date, clean and uniform.
How does Tag Your Price ™ work?
All food products and categories are controlled with a Microsoft Access™ database, which is adapted to the needs of the company. It stores and maintains all pricing information, promotions, names and associated allergen information. Since this database is used by computers in a shared network, several employees can work on it at the same time through special access. Changes made by each user are displayed in the database and applied to the corresponding food cards so that they can be printed out in seconds. You can find a video tutorial on how to enter your own data here
Once the internal database is linked to the card printer software, it's time to look at the individual design of the food labels. Beginners can use the large selection of ready-made templates that can be personalized with the help of the integrated eMediaCS2. Thanks to the preview function, templates can be checked before printing to avoid errors. It is also advisable to do a test print to check colors and sharpness of the printed food label.
Those who want to be creative can also design their labels freely with Tag Your Price™. Individual card design in your own CI increases the visibility of the products and maintains the visual appearance of your store. With the software, you can integrate your own fonts and logos on the card in just a few steps. Thanks to the auto-filling of predefined fields with information from the database, there is no need to create a separate design for each product. Instead, the same printing process can be used for a variety of different cards.
Allergen management made easy
Since the compulsory allergen information according to European Union directive 1169/2011 is already stored in the Microsoft Access™ database, all you have to do is select the correct allergens for each product. The information and appropriate pictograms are immediately and correctly printed on your PVC card.
The Tag Your Price™ printer bundle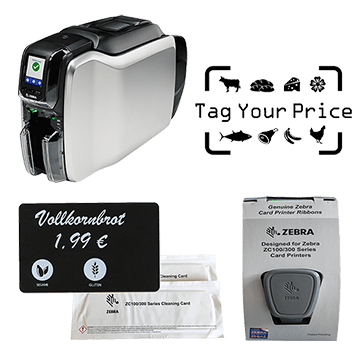 Are you interested in the Tag Your Price™ software? Our team will be happy to provide you with further information and advise you on the integration of the software solution in your company, as well as suggest suitable card printers.
Alternatively, you can take a look at our Tag Your Price™ printer bundles in the auto-iD 24/7 online shop. These are ideal starter packages for your entry into card printing. In addition to the software, you also get a Zebra ZC300 card printer with USB connection and Ethernet, 1 ribbon for printing 1,500 card pages, 1 cleaning card kit and 200 food-certified PVC cards in black or white.