Zebra Label Printer ZD421 Desktop
Zebra's ZD421 label printers stand out for their flexibility and advanced features. In addition to the intuitive user interface, the printers feature a field-upgradeable wireless kit. Based on the GK Series printers, the ZD421 models are more powerful and feature-rich.
ZD421 - The label printers for tomorrow's needs
Among the special advantages of Zebra's ZD421 label printers are durability and an innovative architecture. The models also outperform predecessors, delivering 30% more performance than the ZD420 Series and as much as 700% more performance than the GK Series.
Desktop printers with advanced features
The ZD421 series printers can be easily added to existing printers or taken as replacements, as current label formats are still compatible. The models support EPL and ZPL printer languages and can simulate other manufacturers' languages using Zebra's Print DANN "Virtual Device" tool.
In addition, the ZD421 Series has the following features and qualities:
Status check at a glance thanks to LED indicators
Easy-to-use cassette for lightning-fast ribbon changes
Battery option turns the ZD421 into a portable printer
Movable sensor for media compatibility
Our Zebra ZD421 desktop printers:
Zebra's mid-range ZD421 series includes a full range of desktop printers: the thermal transfer model, the direct thermal model and special healthcare models for the healthcare industry. Depending on the planned application or printing project, you can choose a suitable ZD421 label printer. The All About Cards team will be happy to advise you personally on choosing one of the ZD421 models.
Zebra ZD421 thermal transfer printer
The Zebra ZD421 is available as a thermal transfer printer that can print with both ribbon cassettes and ribbon rolls.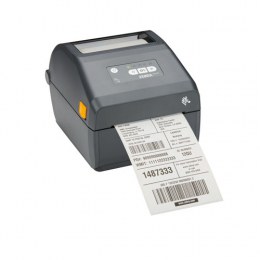 Especially with the ribbon rolls, large quantities of print materials can be printed cost-effectively. Further costs can be saved additionally by the intelligent support of two different ribbon sizes: 74m and 300m length.
Another advantage of the thermal transfer printer is the wide range of printable materials. Whether PVC or cardboard, with the Zebra ZD421 thermal transfer printer you choose the basis for your cards.
Zebra ZD421 direct thermal printer
The direct thermal printing method is also supported by the ZD421 in its own printer model.
In this case, the label printer does not require any additional consumables and creates monochrome labels in very good quality. This makes it particularly suitable for environments with fast and continuous operation, such as at the point-of-sale.
Zebra ZD421 Healthcare Printers
Designed and certified specifically for healthcare facilities, the ZD421 series healthcare label printers are the optimal choice for hospitals or clinics.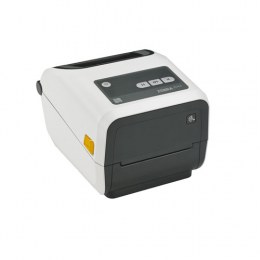 Made of disinfectant- and UV-resistant plastic, the printers are especially easy to clean and disinfect in hygiene-intensive environments. Yet they retain all the benefits of the ZD421 range, such as ease of use, practical design and flexibility. For extra security, the printers offer an optional security feature that can protect sensitive media and data.
Applications for Zebra ZD421
Thanks to different models with two different printing methods, Zebra ZD421 label printers are used in a variety of environments:
Industrial and shipping labels
Test seals and type plates
Labels for product and inventory identification
Price tags
Medical Recipes
Laboratory and sample labels
Labels for official file identification
Tickets at events