Best Practice Chicorée VIP loyalty cards and gift cards project
Colourful, multifaceted, unconventional and always an eye-catcher! All this applies to the projects that All About Cards has taken on for the Swiss fashion label Chicorée so far. This time All About Cards was responsible for the production of the new gift cards and the launch of the high-class VIP customer cards.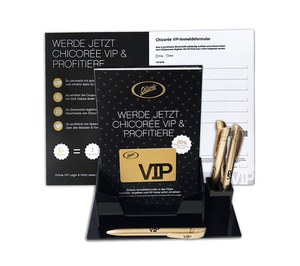 New loyalty program: Launch of the Chicorée VIP customer card
For three years now, the Swiss fashion retailer has been working together with All About Cards on a variety of projects involving gift cards. At the end of April 2018, in addition to the production of the new gift cards, the launch of the high-class VIP customer cards for chicory began. In addition to producing gift cards and packaging elements, All About Cards also handles data acquisition and digitization of customer data. In addition to delivering the cards directly to Swiss Post, the range of services also includes mailing services: All About Cards handles both the weekly VIP mailing to customers who have registered online and a weekly replacement card mailing.
Loyalty program among the top 10 loyalty programs in Switzerland
According to the Loyalty Trend Report, Chicorée's customer programme ranks among the top 10 loyalty programmes in Switzerland after just four months. The successful start of a project is a prime example of how the potential of existing customers can be exploited to a greater extent and new customers can be acquired: Already in May, 50,000 chicory customer card applications were submitted - and 30 percent of the customers already use the customer card with their purchase.
---
---