Food safe card printer
Food-safe Labelling which keeps you compliant - with the enactment of the EU Food Information for Consumers Regulation (EU FIC), there's a whole host of allergen information you now need to provide for your customers… but how are you managing to keep it all up-to-date and accurate?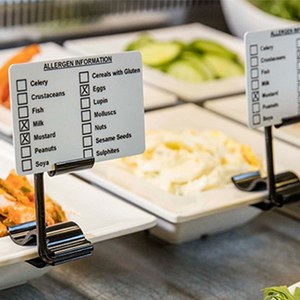 We appreciate the difficulties you may be experiencing, which is why we've created our food-safe cards and ribbons: so you can print your own customised plastic display labels and information, helping you stay compliant, give better service and maintain business efficiency.
Legislation & The Law
The EU Food Information for Consumers Regulation No. 1169/2011 now requires all food service organisations serving unpackaged food or food packaged on site for immediate consumption to supply details of all items which contain the EU 14 major allergens. You have to list a breakdown of allergens for each item/
dish in an obvious place such as a menu, chalkboard or product information card; or indicate clearly that the information is freely available from your staff.
And you need to have a written version of item-specific details available to your customers if they ask for one.
The Zebra Food Safe Card Solution System can do all that, in just a few quick and easy steps… producing a branded plastic card, complete with all the appropriate
information, in no more than 10 seconds! Our cards are tested to Commission Regulation (EU) No 10/2011 (14 January 2011 with amendments); the ribbons
meet EC 1935/2004 and are ISEGA approved for use on food safe cards.
Food Safe Card Benefits
Completely customisable
Fast to create and update: facilitates compliance
Accurate and consistent reproduction of your designs
Long lasting and easy to clean - even in a dishwasher!
Limits the risk of errors by importing data direct from your databases
Easy to reproduce if you need to change product or price details
Add photos or images to appeal to customers
Gives you a strongly unified display across all product groups
Imagine if you could print these eye-catching, foodsafe, allergen cards on demand, whenever you need, at the press of just a few buttons…
It really is that easy with a Zebra Food Safe Card Solution System.
All you need for easy allergen compliance is a Zebra ZXP Series 3 printer.
If you want to order or have any more questions please just write to info@allaboutcards.de
---
---