Plan your Christmas campaign now!
The countdown has started...soon the days until Christmas are numbered again. There are still a few weeks to go, but time flies - and so does summer. That's why you should already be thinking about the Christmas business despite of the hot summer temperatures!
Since the planning of marketing activities takes some time, it is worth organizing customer or gift campaigns early on so that you can start the pre-Christmas season relaxed.
Voucher and gift cards have proven to be a special gift for years, as the positive response from many customers shows. Are you planning a Christmas gift campaign? At All About Cards you will find your individual design and can offer your customers unique gift options - be among the first and benefit from professional advice!
You can select from different card types and packaging materials to design your card program. The range extends from simple to personalized plastic cards. You can also choose exclusively refined cards with a particularly elegant and high-quality look. Metal, wood or biodegradable PVC or PET-G are sustainable alternatives to classic PVC. The card surfaces can also be individually adapted by means of textured lacquers and various coatings, exactly for your purposes!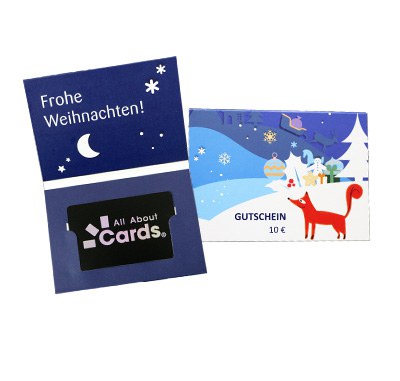 Attractive gift cards are even better received by customers when they are presented in high-quality, innovative packaging. You can choose from a variety of packaging options such as cardboard, metal, leather or ecological wood variants.
To make the decision easier, we can also send you samples on request. Do you still need support with fulfilment or packaging? We will help you with the implementation of your card project!
---
---