Our value-added service for you: leave the packaging of your products to us and save not only great amounts of time but also costs.
On its way from manufacturer to customer, a product passes various stations and depends on smooth processing to guarantee an efficient supply chain. Factors which may influence this procedure are on the one hand packaging and charge carriers but on the other hand technological developments in the areas of e-commerce and m-commerce. These challenges for logistics and innovations in the packaging segment require a corresponding efficient handling, for which the usage of co-packing is the ideal solution.
Co-Packing as your value-added service
Beside the treatment of your customer order we also offer you the possibility to take care of your products' packaging by co-packing. As a value-added service, we pack, repack or include your products with your branding in our co-packing service. Within this full service offer we provide you with individual solutions, tailored to the requirements of your business.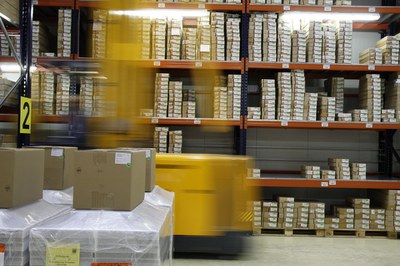 Your advantages:
Lower your fixed costs by dispensing additional machines, staff, staff education costs, workspace and resources
Individual packaging and flexible quantities according to your needs
Lower personnel bottlenecks with our help
Win time and concentrate on your core business
Individual co-packing solutions for our customers
Thanks to the highly automated packaging procedure, we can pack your product according to the customer requirements. The direct transition from production to packaging by the usage of co-packing keeps error rates low and guarantees an impeccable product. On top of that, you also profit from our specific know-how as well as by our long-term experience with a corresponding big network in the logistic field. The collaboration with reliable partners guarantees both highest quality in the process handling and keeping costs as low as possible.
You express your wishes to us, we implement co-packing quick and with quality assurance.