McDonald's - i'm lovin it
Sets of giftcards and the creativ french fries packaging for McDonalds.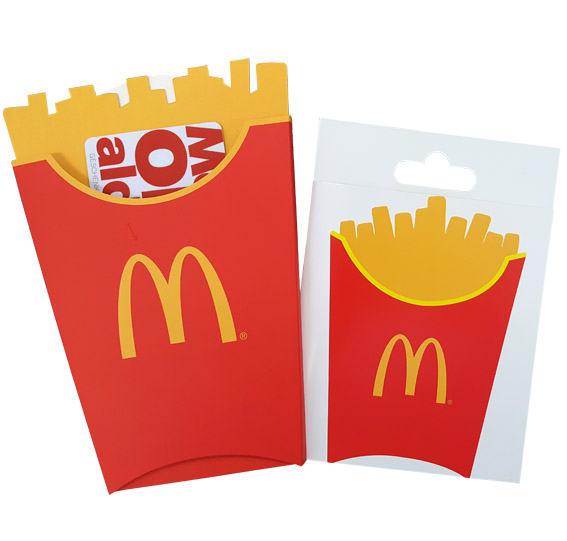 More flexibility in payment options for McDonald's
Everyone knows it: the famous french fries packaging from McDonald's. Why not be creative and, in addition to the popular product, also offer the gift cards in this look? McDonald's Switzerland and its 43 licensees have decided to go this innovative path. For the enjoyable and joyful moments in his restaurants, there is also a high degree of flexibility in the possibilities of payment. The gift cards also convince visually! All About Cards was able to realize the project together with the gift card system of Loyalty Gift Card.
High quality McDonald's gift cards in six versions
The service includes the production of high-quality gift cards in six versions, the matching card carrier, as well as a push and pull packaging variant for the 166 Swiss restaurants. Each guest can choose between three different levels of value and a free amount. The gift card for third-party sales is available in amounts ranging from CHF 30 to CHF 200. Multiple re-charging is possible on site in the restaurants.
Original McDonald's French fries push & pull packaging
While the folding card carrier in third-party sales is a practical solution of cartons and card packaging at the same time, the push & pull packaging has been implemented with a push mechanism in the design of the original French fries packaging. The color of the writing is particularly good on the plastic cards thanks to the matt lamination and the raised spot lacquer. The backs of the cards are personalized several times: On the one hand, a PIN code is printed, which is protected by a scratch card. On the other hand, each card has a magnetic strip for cashing in at the cash register as well as a barcode. The gift card project McDonald's Switzerland is a fine example of how gift cards can be matched to each other to complement each other perfectly and to fully benefit from the added value of a gift card program bring to.
"Thanks to the very kind and competent cooperation with the All About Cards team, we were able to successfully launch a new gift card in 2017. The original packaging is certainly a new benchmark for us! Thanks for the great support!"
Anne-Cécile Combe, Head of Digital Marketing, Mc Donald's Switzerland
Are you also interested in topics related to cards and card packaging? Contact us - we can support you with competent project management.
All About Cards - Competence around the card!

---
---