NORDSEE
Sets of gift cards, card holders and folding cards for NORDSEE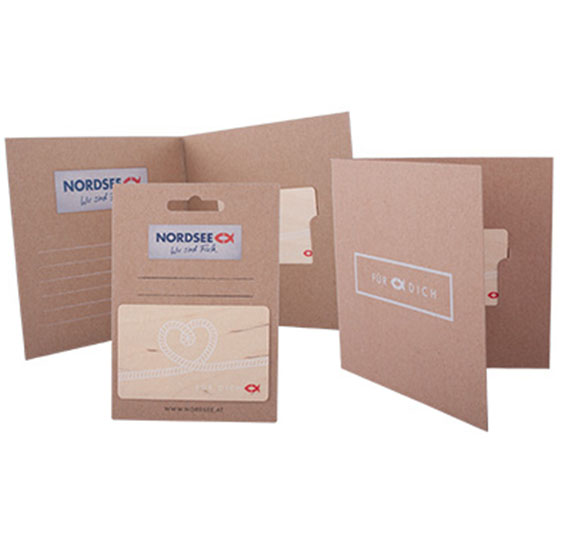 True to the motto "Pro toto quid contribuamus" ('Let's do it for the whole'), it is in the natural interest of NORDSEE to act in the spirit of nature, to conserve resources and to promote the sustainable use of raw materials and resources. The Bremerhaven-based company has implemented this idea in form of an appealing coupon card program. All About Cards was allowed to realize this project.
High quality NORDSEE gift cards made of wood
High-quality gift cards made of wood as well as two packaging variants were produced. With the gift cards each customer can choose between a value level up to € 100, - or one of the two firm values: 20€ - and € 50€. The folded card or the card holder are available in stores and online, along with the chosen gift card.
NORDSEE card carriers and folded cards made of recycled nutmeg cardboard
While the three versions of the card holders and the flip cards are made of recycled nutmeg cardboard, the material of the cards has been set on completely eco-friendly wood. Sustainability is shown in the possibility of recharging and thus the multiple use of the gift card. The backs of the cards are personalized in several ways: Via barcode and PIN with scratch-off personalization, so that the uncharged card can be selected in the POS area by customers and then loaded at the cash register.
The NORDSEE project is a nice example for combination of tasteful design and sustainable production. The gift card set offers the customer a high degree of flexibility due to its availability in stationary retailing.
"All About Cards has supported us at all levels of cooperation. We received reliable advice on our approach to producing a high-quality NORDSEE wood card, so that today we can offer our customers an attractive wood voucher card".
Merle Nawrath, Senior Marketing Manager
Are you also interested in topics related to cards and card packaging? Contact us - we can support you with competent project management.
All About Cards - Competence around the card!
---
---