Make your card project fit for multi-channel, for sale and distribution on different ways, physically as well as digitally. You can have the system as a white label for single brand or multi brands.
Multi-Platform & Multi-Channel Gifting: There are several ways to use the platform, as an app for smartphones and tablets or as an integration into your website.
Gift cards can be distributed on several ways: Physical cards are served on the usual way per post, virtual cards (eGift Cards) are sent with text messages and E-Mail.
Personal gifts and their advantages: You can personalize gift cards and prepaid cards with our solution. You can add personal greetings and pictures and, if you choose distribution by post, packagings or special products. Sending it via SMS or E-Mail, users can also add videos, audio files or animated pictures.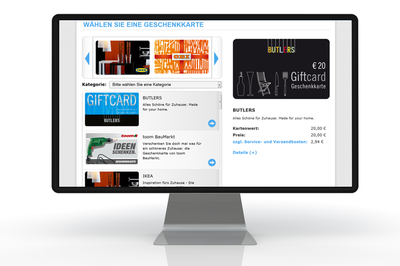 Payment can be integrated for mobile and online use: For a first installation, we used prepayment, credit card, Paypal, immediately tranfer and giropay.
Charging and activating due to retailers demands: The solution corresponds to the conditions concerning the activation of prepaid cards and gift cards, at the point of sale, too, and can be configurated individually. Activation can happen immediately, delayed or belated with certain risk-and-fraud-processes. Charging, depending on the technical equipment of the retailer, can happen via smartphone, PDF-print or NFC-technology. Furthermore, the solution offers a mobile wallet for the management and chargement of gift cards and vouchers.

Advantages for the giver:
Promptness; access to the store 24/7
Mobility
Personalizing of gifts via smartphone, mobile device and website
Social gifting – integration in social networks
Common gifting
Advantages for the presentee
Better experience of the digital gift
Mobility and easy handling
Overview of your gift cards
Charging in the store
Creating wish lists
---
Our first B2C-solution:
We realized a first B2C-application called mobi-g. You can choose from 40 top brands, make them a personalized gift card, send it with E-Mail, SMS or post and charge it mobile or in the store. Mobi-g is available as a webshop and as an app. Check it out!