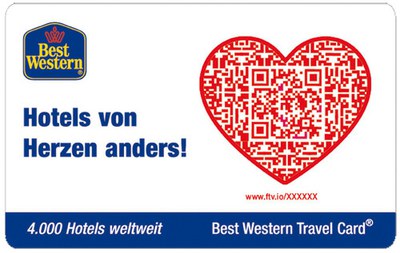 With his smartphone, the recipient sees what is behind the QR-code: You can upload video messages, pictures or advertising with the fotovio-app (for free in the app-store or googlePlay-store).
Watching it is possible with every scan-app available for iPhone and Android. Our solution gives your gift cards a digital upgrade - for the use of giving persons or for companies that want to add digital advertising to physical products.
As a gift, as a mailing or for incentives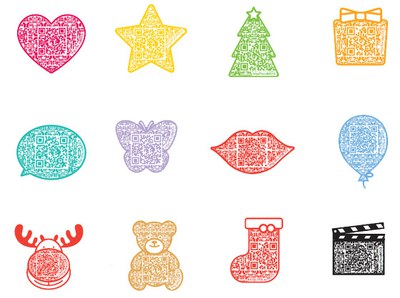 You can find fotovio already on postal-parcels, on presents and other printings. All About Cards brings the app onto the card. Special shaped codes make plastic cards more colourful, exciting and personal. We'd love to create your individual shape, fitting to your logo, campaign or industry!
People who give vouchers will like to use the possibility of individualizing. Fotovio-codes make your gift cards a well bought product. You can also use it for incentives: A personal acknowledgement by the boss can be uploaded, as well as birthday greetings or congratulations for company jubilees.
Print the fotovio-codes on your loyalty cards, on your mailing or card packaging and upload promotionals. For this, we create a landing page which you can update on demand. So your customers will always find the latest news about sales and trends.
You don't want the codes to be printed directly on the cards or packaging? Then we can offer you fotovio-codes as stickers.
You are welcome to get samples!
---
How to get your video on the card:
1 - Start app:
Get the fotovio-app for free - for iPhone in the app-store, for Android in the Google-play-store.
2 - Scan code: Scanning the codes is possible with every available scan-app for iPhone and Android.
3 - Upload video: Now you can upload a video you recorded with your smartphone: birthday greetings, wishes for the recovery, congratulations and other kind words. Videos can be up to 2 minutes and 200 MB. You can upload pictures as an option, too.
4 - Give away: Here you are your personalized gift card. The codes also are shown well on the packaging. All About Cards can produce your card carriers, folded cards and other attractive packaging printed with fotovio-codes.