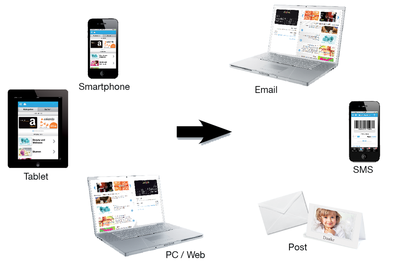 Multi-channel in retail
Customers' demands on shopping and payment have changed – and they also do in relation to gifting. The smartphone is a constant companion and multi-functional device. Take profit out of this! Expand your sales opportunities by offering the distribution and cashing of gift cards or loyalty cards mobile.
An integration in your website/ your webshop gives customers the possibility to buy and send gift cards online. The presentee gets the voucher via SMS or E-Mail and can convert it at the webshop (e.g. by typing the code) or in the physical store – with a print of the PDF he got via E-Mail or, if you are already equipped with NFC-capable devices, at the cash point with his smartphone.
Read more about the advantages at our digital card solutions!
Multi-channel at events
At events, there are alternatives that are more comfortable than a physical ticket. The guests always have to have it in mind and to carry it around. With a digital solution, you can use e-ticketing. Visitors do have their ticket on their smartphone. That simplifies access control.
You are dealing with vouchers for events like concerts, musicals, sports or cinema? Expand your shop with the possibility to add personal greetings to the tickets and to send them via mail or SMS.
You are the owner of a cinema? Besides gifting, you can also ease reserving. Guests just show the smartphone at the control or get their tickets comfortable at the automat.
Multi-channel for hotels and gastronomy
Vouchers for accommodation or for a dinner are popular presents. Provide them in digital form! Both, buyer and presentee, are taking profit by the possibility to add messages, images or videos to the gift card. As a special service, you can offer the mobile charge of vouchers. The guest shows his reservation/payment with his smartphone.