Eco-friendly cards & card suppliers - more than just a trend!
The topic of sustainability has become increasingly important over the past few years. Especially with the beginning of the new decade, topics such as sustainable consumption, ecological travel and eco-friendly production are more important than ever.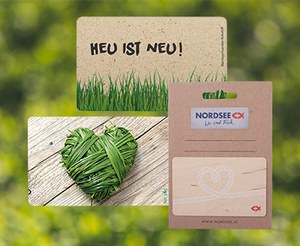 According to a survey, 70% of customers attach importance to the sustainability of products or the company, which consequently has an impact on their personal purchasing decisions. Not only have customers changed their awareness in this direction, also companies in various industries have been affected by this development. Sustainability is much more than just a current trend, which can be seen in innovative approaches to integrate sustainable strategies into one's own processes in the long term. More and more companies are focusing on sustainable topics and environmentally friendly products, such as All About Cards.
Sustainability includes the following aspects:
Recyclable materials (cards & packaging)
Reduced material consumption for printers
Environmentally friendly technologies in product manufacture
Resource-saving processes
All About Cards offers a wide range of ecological card alternatives in addition to conventional plastic cards, which can be used as gift cards, customer cards or identity cards. Throughout the entire production process, attention is paid to eco-friendly card production. In addition, more and more printer manufacturers are integrating "green" consumables such as environmentally friendly ink ribbons into their production, which have improved recycling properties.
Eco-friendly card materials instead of plastic
To ensure high product quality with a focus on sustainability, biodegradable plastic cards are particularly suitable for flexible use. Conventional PVC cards are highly durable, but in the long run they pollute our environment through plastic waste. To avoid this, recyclable wooden, grass or bio PVC cards that are compostable together with organic matter or completely biodegradable cards can be chosen from the range. The eco-friendly card materials contain renewable raw materials, paper or sustainable PET-G which is recyclable.
BIO PVC, wood or grass for customer and gift cards
Our certified BIO PVC cards have no disadvantages compared to conventional plastic cards when handled carefully. They contain neither organic chemicals nor heavy metals, so they can be easily recycled. The material is disposed in an environmentally neutral way, as neither methane nor nitrogen are released. A complete decomposition of the material in combination with water is possible within two years.
However, the use of wooden cards as customer or gift cards also convinces with its sustainable visual appearance. Depending on your personal preference, you can choose between maple, white oak, oak, teak and wenge and have your wooden cards printed individually in offset - of course with eco-friendly colours. As an alternative to wood, All About Cards offers CO2-neutral grass cards, half of which consist of grass or hay from compensation areas and the other half of recycled cellulose. No chemicals are used in the mechanical processing of this material. The colour and structure of the grass cards thus makes the sustainability aspect directly visible.
You will find the matching supplies for the sustainable cards in our range of eco-friendly lanyards, which are made of 100% bamboo or recycled materials, as well as DOP-free card holders and ID card sleeves.
Are you interested in eco-friendly plastic cards? Our team of All About Cards will be pleased to make you an individual offer!
Source: https://www.horizont.net/planung-analyse/nachrichten/Relevanz-fuer-die-Kaufentscheidungen-Nachhaltigkeit-Verbraucher-achten-zunehmend-auf-das-Image-von-Marken--164198
---
---