Möbel Pfister - give pleasure to living
Sets of gift cards, greeting cards and packaging for Möbel Pfister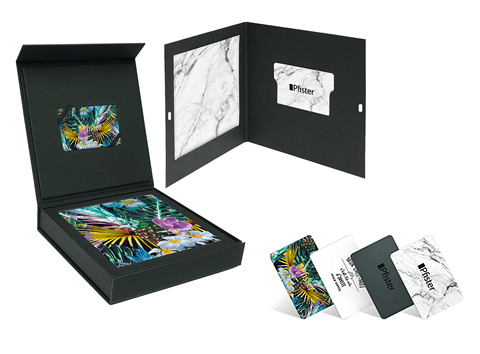 Setting up your home beautifully and stylishly is a matter of heart - the same is true for gifts. The Swiss furniture retailer Möbel Pfister has implemented this idea in the form of an appealing gift card program. Together with the Zurich Advertising Agency Content & Form, All About Cards was able to realize the project. High quality gift cards were produced in four designs, matching postcards and two packaging variations. The double folding card or the SoftTouch box are available together with the selected card set in the shops as well as online. While the box and the folding card are simply held in noble black, Content & Form has set its expressive strength in card design. The motifs "flower", "leather", "marble" and "home" can be seen particularly well on the plastic cards using surface finishes such as hotstamp or textured lacquer.
Möbel Pfister Cards including packaging

The back sides of the cards are personalized several times: on the one hand, a PIN code is printed, which is protected by a scratch card. The user can use this in the webshop. On the other hand, each card has a barcode to redeem at the cash desk. The remaining credit, which is on the gift card, the cardholder can comfortably recall on the internet. Each card has the counterpart in paper form: the postcards are matched in format to the punchings and depressions in the folding card and box. The card value is entered on the back of the card, as well as the gifting space for personal lines. The Möbel Pfister project is a beautiful example of a multi-part gift card program, which is available to the customer through its availability in the Stationary as well as in the online trade offers a high degree of flexibility. Are you also interested in maps and card packaging? Contact us and we will gladly provide you with a detailed offer.
All About Cards - competence in cards!

---
---