Swissôtel Circle - Second Edition
New, Valuable Packaging Box for Zenit-Cards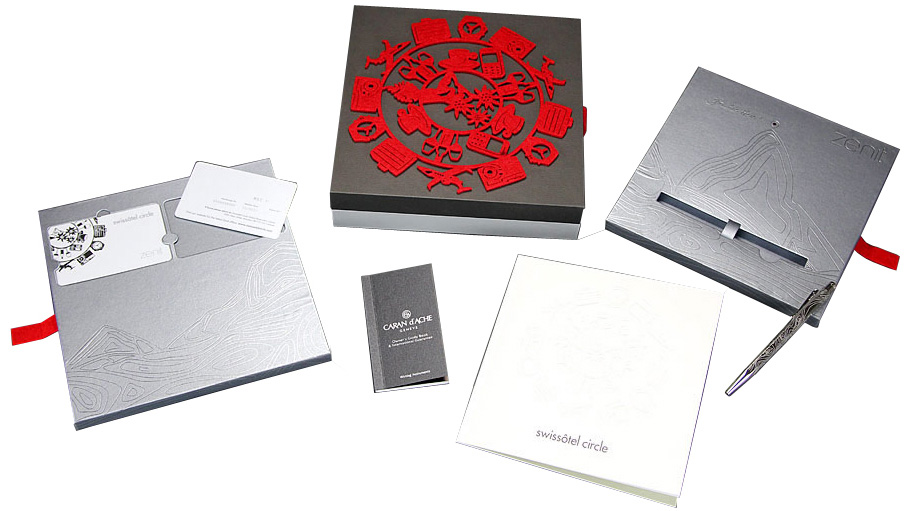 The Swiss hotel group Swissôtel Hotels & Resorts issued a second edition of the high quality Zenit- packaging box in the context of its exclusive customer loyalty program Swissôtel Circle.
New Materials in High Quality
The box is made of high-quality carton in two different shades of grey. The "Circle of Life" again plays a role in the package. A filigree punched circle consisting of red felt decorates the lid of the box. A silver button, also attached to red felt, allows the closing of the box.
The inside of the box impresses with valuable materials and attention to detail. It consists of two inlays, which can again be taken out with the help of two red felt ribbons. Thus, there is room for a big and a small booklet as well as for the customer cards and a premium silver pen as a gift. The whole inward is made of "Gmund BEE! Brillant". Filigree punching, showing abstract mountains, provides the box with a particularly precious appearance. Another special feature is the red spot on the highest peak of the mountain. The writing "You are here!" next to it, signalizes the guest that his or her loyalty is highly appreciated by Swissôtel.
The System Stays The Same
The functionality of the program, however, does not change. The three different cards Inizia, Elevà and Zenit are still handed out to the guests of the hotel depending on the number of stays. Also the design of the cards, as well as the advantages which the membership program offers stays the same.The packing of the Inizia and Elevà cards remains as before, as well. Only the Zenit-cards are handed over to the most loyal members in the new premium carton box, instead of in a wooden one, from now on.
All About Cards took over the whole project realisation for Swissôtel also with this box. A first draft for the packaging emerged in close cooperation with the designers of Graswald.Heiligtag GmbH & Co. KG. The first edition of the box was 500 sets. In the winter of 2013 the first new boxes were finally sent to Swissôtel's most loyal guests. All About Cards continues to take care of the production and personalization of the cards as well as of the mailing of the personalised sets.
---
---