BMW Group
Employee ID Cards System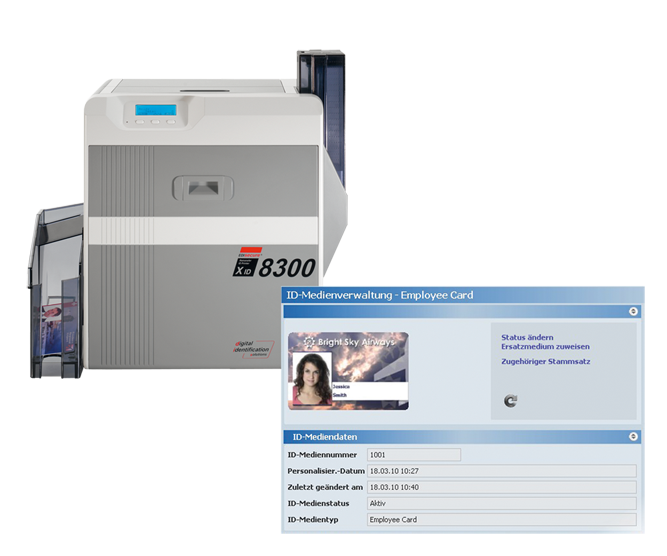 All About Cards supports the BMW Group in producing corporate ID cards and, for this purpose, provided card printers and encoders from EDIsecure. After a successful test phase, All About Cards replaced the previous card printers in the German production plants with XID 8300 printers, with which high-quality ID cards with LEGIC-Chips for employees from all departments can be produced.
Starting with the project launch, All About Cards continues with its competent and widespread consulting and care down to the present day. The challenge: Renewal of the card printing solution, with a Windows 7 upgrade, combined with the existing ID card management system IDExpert ProAct, from VPS IP Systems. The solution: XID 8300 card printers, which offer an excellent printing quality on various chip card types, integrated encoder solutions, as well as optimal matching to the existing system and guarantee ideal handling of complex management ID card systems of large companies.
The double sided retransfer printers XID 8300 from EDIsecure with integrated LEGIC Advant encoder, encode and personalize the in the offset pre-imprinted cards in just one step. Having various designs, the ID cards represent diverse groups of employees and external employees, as well as their competences.
Taken from the previous recorded core data, name and employee ID number, as well as the picture of each employee are printed on the card. Moreover, all chip ID cards come with a payment system, thanks to which the card can also be used for canteens and other divisions, besides access control and time recording.
Cards As Allrounders
That way, allrounders, like the BMW ID cards, simplify the employee management and bundle competences and a multitude of data in just one medium. The retransfer printers match perfectly to the previous IDExpert ProACT software, which was especially developed for large companies. The software enables the whole ID management of diverse media, as well as the examination of the biometric identification and offers convertible interfaces to external databases and applications. ID cards, produced this way, can be immediately handed out to the employees and are ready for use.
Are you also interested in ID card management systems or printers? Contact us and we are pleased to make a detailed offer to you.
All About Cards – competence in cards!
---
---