Elisabethinen Linz
Solution for ID Card Management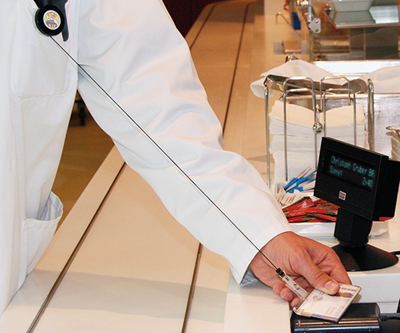 Since its founding in 1745, the Hospital of the Elisabethinen pursued the objective "to serve the people in happiness". To the present day, the convent of the Elisabethinen and the in general public hospital of the Elisabethinen in Linz, are inseparably affiliated with each other and represent a modern, high complex workplace with more than 1300 employees. This modern institution, consisting of numerous self dependent divisions, requires an efficient and reliable ID card management system for a smooth and secure identification of internal and external employees.
Access Control and Payment System
"For us, regarding the ID card system, essential requirements were future-proofness, scalability and integration ability of the ID card management solution to other auxiliary systems or subsystems. In our concrete case, that meant installation to a modern state-of-the-art IT infrastructure, connection of data to SAP HR and a central data management and card encoding for time registration, access control as well as the use of the employee ID cards as a multipurpose payment card in the canteen.", said Mrs. Dipl.-Ing. Claudia Perndl, Head of IT of the Hospital of the Elisabethinen. All About Cards as a competent supplier for cards and ID card technology and certificated partner of VPS ID Systeme GmbH, could completely fulfill these requirements with the Smart ACT software.
As a first step, a complete solution for multipurpose employee ID cards was installed, which consists of the IDExpert Software Smart ACT including a picture recording station, a XID 8300 retransfer card printer including a Mifare encoder station, connectors to the SAP HR system, as well as of a connection to the canteen system of the CDE – Communications Data Engineering GmbH – which offers the possibility of cashless payment.
In doing so, All About Cards not just installed the ID card system, including hard- and software, but also delivered RFID cards, the complete card accessories like card holders and industrial yo-yos, and moreover acted as an advisor, from the proper conception of the system and cards up to the optimal card design.
In addition, service- and maintenance agreements from All About Cards ensure availability and future-proofness of the ID card system.
.All About Cards – competence in cards!
---
---