Monochrome card printers for moderate volume printing, card printers to personalize re-writable plastic cards or re-transfer card printers for photo-realistic printing – you will be surprised how many advantages card printers can offer!
One of the biggest strengths of All About Cards:
We are the premium partner of leading global industries in the market of cards and card printers, e.g. vendors like Zebra Card Printer Solutions (formerly Eltron Card Printers), EDIsecure/Matica (formerly Digital Identification Solutions AG), NBS Technologies, Evolis and Datacard card printers.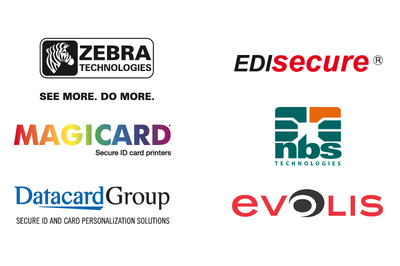 When dealing with functionality, quality and security we do not accept compromises. A quality card printer should be more functional than just personalizing cards. Card printers have to be stable, especially in long-term usage, easy-to-use and economical.
Issues that not many partners and resellers take care of – we do! Our name obliges!
Our card printers do not only convince – they inspire in daily use. With unique affordability, whether you wish to customize ID cards, access cards, membership cards or customer loyalty cards – these card printers will not dissappoint you:
monochrome, full-color or high quality Re-Transfer printing
personalization of re-writable plastic cards
single-sided or dual-sided printing
overlay protection, lamination with personalized holograms
magnetic or Smart Card encoding
(Mifare®, LEGIC, HID, Hitag)
networking features
compact and easy-to-use
card printers for starters or for industrial applications
Have you heard of card printers that can accomplish more? All About Cards delivers card printers from Zebra, Edisecure, NBS Technologies, Evolis and Datacard as well as complete solutions for your individual needs.
Contact us, we offer you competence around cards!