Bijou Brigitte
Gift cards and packaging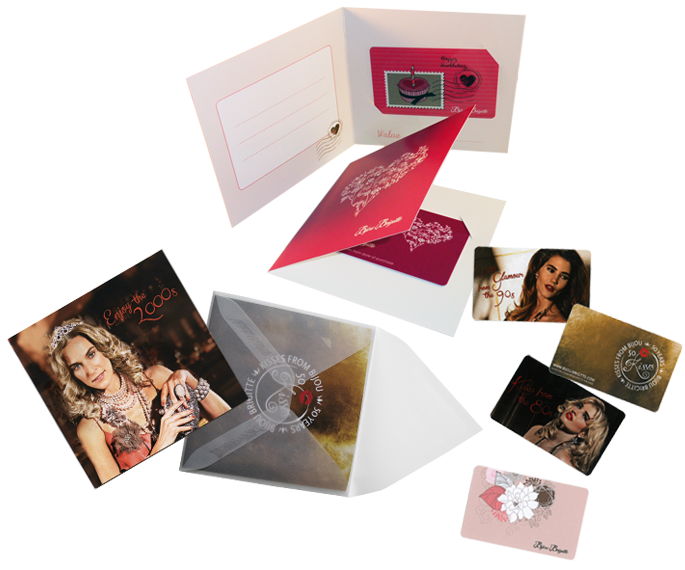 Bijou Brigitte AG with head office in Hamburg has more than 1.500 stores domestically and in foreign countries and is the market leader for fashion jewellery and accessories. The concern relies on a creative customer loyalty and translated it into action with All About Cards in form of giftcards with different designs and suiting packaging. We produced two series with five respectively four different motives.
Chipcards with fanciful motives
Earrings, chains, foulards and scarfs, sunglasses and belts, fashion jewellery and real silver jewellery with exclusive designs: the comprehensive and large assortment of Bijou Brigitte leads you to give someone a special treat. The easiest way to do this is with fanciful created gift cards. The cards have a special encoding which is made for loading the card with any amount you want. The recipient can easily convert the gift card in any store of Bijou Brigitte.
First All About Cards produced the layouts "Flower", "Roses", "Happy Birthday" and "Love", additionally a Christmas design. Another series includes some motives fitting to the 50th anniversary in 2013. In celebration of the anniversary, Bijou Brigitte had jewellery of every decade since the 60's in the assortment. The gift cards show models wearing jewellery of the collection; on the back there is a sweet message for the customer that says: "50 Kisses".
Packaging and envelopes
For every card of every series All About Cards produced a fitting packaging in the form of a folded card, which spiced up the card and made it more special. Inside is a handy slide-in for the card, as well a text field for some personal words or for the names of the giver and the receiver, but you can also note the value. At least the folded card with the gift card inside fits perfectly into a transparent envelope.
You can get this set in every store of Bijou Brigitte and additionally in the online shop.
You are also interested in realizing such a project?
Send us a request and we will advise you and send an offer without engagement.
All About Cards – competence in cards!
---
---