Tyrolia
Packaging and customer cards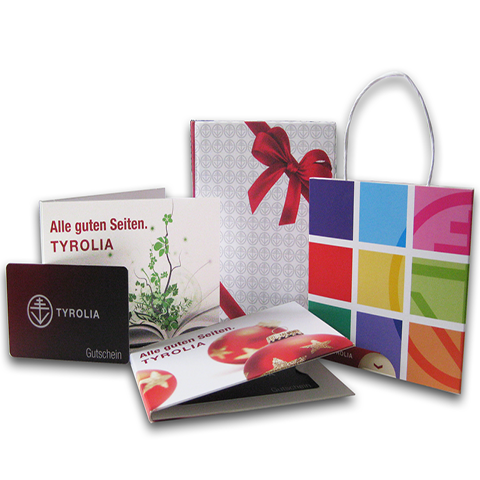 Modern concepts for bookstores connect books more and more with gifts and gift ideas. This is very successful for companies like Thalia (Germany) or Tyrolia (Austria). The Austrian publisher Tyrolia recognized that gift cards are perfect for this business and launched a concept of gift cards, packaging and customer cards. Tyrolia responds with this to their customers and offers room to charge the card with an individual amount of money and choose from four different types of packaging. The Tyrolia gift card is equipped with PIN plus Barcode and is charged at the cash point.
Nice packaging in four different versions
The nice packaging, two versions free and two are with costs, makes the card a great gift. The card, fixed in the folded card with standard design and barcode cavity, is always eye catching. In Christmas time customers get the folded card with a festive theme for free. You can make an extraordinary present with the two packages with cost. The "book package" looks complex and classy and comes in a size of appr. DINA6. The package has an inlay made of artificial velvet where the card is fixed in and a handout that is fixed to the cover. On this paper, the amount of the gift card is moted; it also offers space for some personal words.
The "card bag"-packaging is very clever. You can pull on both sides: on the upper part, there appears the card, on the under part, there is a field to write in the amount of the gift card, as well as some personal notes. To improve customer loyalty Tyrolia also inserted member cards which offer different benefits and complete the card concept. When it comes to personalize these cards Tyrolia also trusts in the Service of All About Cards.
This multipart project shows perfectly the various fields which All About Cards works in and moreover it shows what potential for your sales and customer loyalty lays in such cards.
---
---