Best practice: Stuttgart fair
All About Cards has produced cards and packaging of high quality for the Stuttgart fair (Messe Stuttgart). Also personalization and the sending of mailings have been undertaken.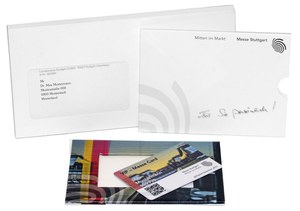 The Stuttgart fair is the most up-to-date fair and congress center in Europe with 67 events and 1.27 million visitors per year. To enable the special customers and partners of the fair an uncomplicated and comfortably access, the organizers of the fair send the entrance tickets in the form of a mailing on a regular basis. A large project, which gets realized in cooperation with All About Cards.
The personalized cards and packings should give the impression of a special significance and attract the recipient at first sight. Therefore, many details regarding the design have to be considered when producing the cards. The current edition for our VIP customers consists of cards which have been produced with offset printing and are furnished with a personalization printed with silver thermal transfer technology. The carrier cards and cases look very nice as they visually match the products. The previous edition of cards was sent to the fair visitors in an effective push and pull packing.
Read more about this interesting project in our references.
---
---